What if we could dramatically affect the way millions of people relate to God everyday?
The shocking truth is that many, if not most professed followers of Christ are spiritually "stuck" in their personal relationship with God. Tragically, many have even gone decades without one meaningful encounter with Him.
We want to equip individuals, churches and small groups to begin walking with God in an intense, personal way.
Most are familiar with the decline of church attendance in America. Each year roughly 2.5 million people are leaving the church, 4,000 churches close every year while there are only 1,000 new church plants. But could the root of it be that individuals are not encountering God in their personal experience - hearing His voice, seeing His hand, enjoying interaction with Him and real power to overcome the challenges of life?
The impact of such a revival would be massive-far greater than any change in Washington!
Where we have been and where
we are going?
Since 2013, Trading Up has helped thousands of Christians make dramatic changes in how they see and relate to our God.
Through conferences, small group programs, church speaking events, and the digital discipleship utilizing the phone as a tool to lead people to know Him more deeply and encounter Him more often, Trading Up has helped over 10,000 Christians since 2013.
You may already benefit from our 1st person Scripture delivered to your phone twice a day as a text message. Even though I write them, I am often both surprised and delighted with how the messages impact my own heart for God!
We also have and will be building new content and programs to help more Christians know the true character of God and experience the abundant life that Jesus promises to all His followers. Christ-followers making other disciple makers.
When we experience God more frequently we are drawn to share our God stories with others, which in part fulfills the Great Commission. God promises in James 4:8 - 'Draw close to me and I will draw close to you.'-ESV
Over a recent lunch meeting, I shared a story of a Christian man who told me how before Trading Up, he hadn't had one meaningful encounter with God in decades...
Will you consider joining us in our vision to help more people see heart transformation through the transformative power of the Holy Spirit?
Our God often blesses through multiplication.
So, let's all choose to get off the sidelines and onto the field and watch what God will do with our combined efforts.
Join us and help us through the power of the Holy Spirit change hearts which will lead to transformed homes and communities and can even help to transform our nation and the world.
Let's experience God together!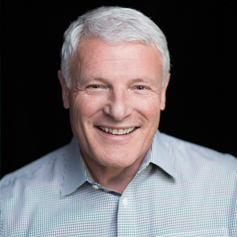 Doug Sherman
Trading Up Founder
---
Want to learn more? Watch Doug's short video about the trajectory of your life being determined by one single thing.